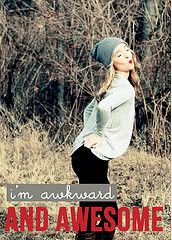 Awkward:
-Having my 3 (almost 4) year old tell me "Girls dont watch boys" when I went into the bathroom to make sure he hadnt fallen in after 10 minutes.
-Having this cute little old lady glare at me all through my birthday lunch because, well I'll admit it, my children were terrors. :)
-Having two sweet friends come into bingo in the middle of the games, and wish me happy birthday.... I definately get embarassed at any unnecessary attention!
Awesome:
- Waking up to little sheets of paper stuck all around the house singing Happy Birthday, with an LED candle on top of a chocolate chip cookie! (Hubby leaves for work before my eyes tend to open!)
-Aforementioned Hubby winning $205 at Bingo at the elks club... ON MY BIRTHDAY! (and being able to afford to buy Modern Warfare3. yipeee... Lol)
-Winning $25 all by myself at bingo!
-My sweet Brax singing me happy birthday, and all day sing-songing: "Its mommys birthday, Its mommys birthday"
-The number of FB happy birthdays I got.. (lame right, but hey, that 30 seconds it took for all those people to type out Happy Birthday means something!)
-Getting my sewing maching back out, and making some fun new things! (on of which might be an upcoming tute!!!)
So there you have it! My very first awkward and awesome thursday! This week I will focus more on the pictures to go along with the post!
I hope everyones week was just a smidge more awesome than awkward... after all, awkward does make for funnier stories!